-By Christopher Fuzy, MS, RD, LD
DOCTORSNUTRITIONPROGRAM.COM – For Doctors or 800-699-8106
LIFESTYLENUTRITIONINC.COM – Patient Website
Seasoned health care practitioners have graduated to advising their patients to incorporate long term behavioral changes along with customized clinical meal plans based on patients individualized food preferences into their patient's individual lifestyle rather than just providing quick fixes or generalized pharmaceutical diet sheets that are too general and restrictive inevitably cause a relapse in patient's behaviors and consequently their weight loss. By quantifying, lean body mass, body fat and accurately metabolic analysis and using nutritional software a Medical Assistant or a designated "wellness coach" can customize a sliding scale of carbohydrates, proteins and fats based a patient's metabolic rate, age, height, weight, lean mass and activity level improving patient compliance and outcomes without hunger, cravings or fatigue.
Office based Lifestyle Nutrition Metabolic Weight Loss & Nutritional Counseling Programs with flexible software and metabolic analyzer can accommodate most any patients requesting nutritional programs for
PCOS
Gestational Diabetes
Menopause
Excessive Weight Gain During Pregnancy
Lactactional Meal Plans
Vegan
Paleo

Weight loss, Post Partum Weight Loss,
Metabolic Syndrome
Cardiac
GI problems
Gluten Free
Wright Gain
Sports Nutrition
Mediterranean … and many more
Utilizing software and metabolic typing it is easier, more cost effective and lucrative to teach a "wellness coach" or medical assistant to provide specific real food suggestions to patients on weekly basis with foods tan be purchased at a local grocery store, specific to your patients metabolism, lean body mass, activity level and food preferences..
According to the Center for Science in the Public Interest (CSPI) it costs an average of $1,400 to lose 20 pounds of weight in the US, however packaged foods, meal replacements, diet supplement programs are upwards of are upwards of $4,600 to lose 20 lbs and are not physician supervised. Expected annual costs for the diet pills was $1,743 for Lorcaserin; $1,518 for Orlistat; and $1,336 for Qsymia. Relapse is a concern when patients have not changed their lifestyle and stop purchasing medications, packaged foods and diet supplements.
Since patients are not purchasing expensive supplements, medications and food replacements lifestyle management programs are more profitable to their owners because they are less costly for the patient and more lucrative for their owners. In addition lifestyle management programs market well and gain the respect from your peers in your community since they rely on long term behavior modification rather than a temporary fix.
Nutritional Compliance, Metabolic Profiling and Patient Food Preferences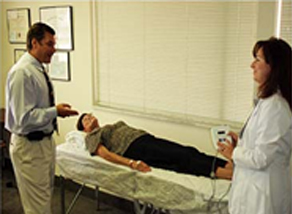 It is paramount for patient compliance to provide tailored sliding scale meal planswhich can change for each patient's metabolic profile, and lean muscle and activity level.
Using a sliding scale meal plan assures we provide the patient with adequate carbohydrate for glucose, glycogen and energy utilization, protein for muscle anabolism, and healthy fat for anti-inflammation and satiety. This approach along with exercise has helped decrease insulin resistance, hyperlipidemias, fatigue and diabetes, cardiac and cancer risk factors which are prevalent in America.
This approach significantly decreases hunger, appetite, fatigue and your patients will embrace your suggestions and look forward to learning more. Clients are substantially more motivated and receptive to learn how to properly balance their blood sugars rather than just counting calories or dieting. Having patients focus with managing their blood sugars effectively, without having to count carb grams, food groups or calories or providing unnecessary food restrictions has been proven to be a positive rewarding experience that patients embrace.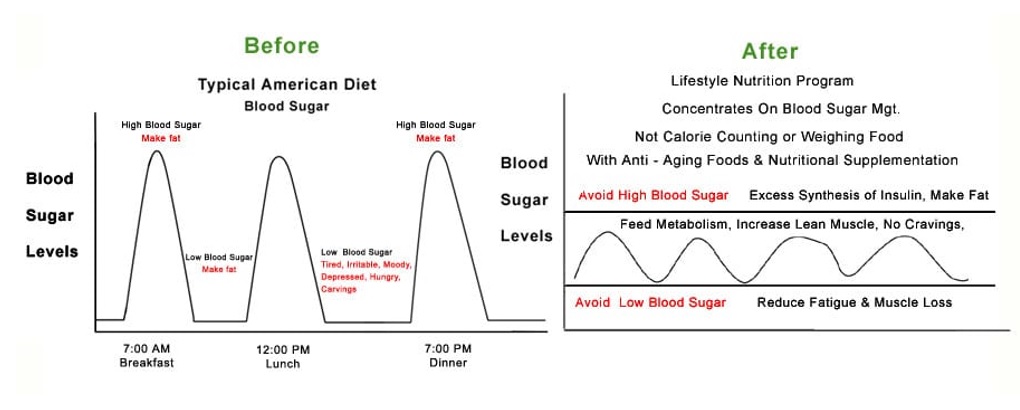 By providing patients with exact name brands of foods to incrementally and strategically to incorporate into their hectic lifestyles on a weekly or bi-monthly basis and by spelling out for them in great detail what to do, patients are more receptive and achieve greater compliance than generic diet sheets, crab or fat gram counting food groups or food pyramids which have been commonly used in the past for nutritional counseling.
Food preferences should be individualized for clinical philosophy and patient demographic. Some of your patients may need shopping, lists, and foods that can be purchased at a Whole Foods or Trader Joes or a Wal-Mart or Costco.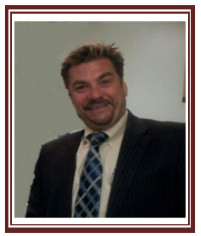 Lifestyle counseling programs based on patients eating real food are significantly less expensive, more profitable for the doctor and market well in today's economic climate. Many of our seasoned doctors that have incorporated a multitude of nutrition programs throughout the years point out that nutrition counseling patients based on eating whole healthy natural food and not selling them anything really builds loyal happy referring patients and is very effective for generating word of mouth referrals both personally and professionally rewarding.
Christopher Fuzy, MS, RD, LD is the Founder of Lifestyle Nutrition Inc. – LIFESTYLENUTRITIONINC.COM, has a Master's Degree in Clinical & Sports Nutrition, has offices in Ft. Lauderdale and Boca Raton, FL and In the past 24 years, has trained over 900 physicians nationwide with the Lifestyle Nutrition Counseling Program. For More Information or try your own nutritional program, Physicians visit DOCTORSNUTRITIONPROGRAM.COM or LIFESTYLENUTRITIONINC.COM or call 800-699-8106.